12 inducted to Mexico National Honor Society
One dozen students comprised the 67th National Honor Society class inducted into the MACS National Honor Society at its Annual Rite of Induction ceremony in Mexico High School.
National Honor Society (NHS) recognizes students who have demonstrated excellence in the areas of character, scholarship, leadership and service, collectively referred to as the "four pillars" of NHS.
MACS Superintendent Dr. Donna Runner and Mexico High School Principal James Busco spoke to the crowd, congratulating the inductees but also took time to honor and call attention to the hours of hard work and support put in by the families and friends in attendance.
The MACS chapter, known as Los Inteligentes, formally inducted Alexis Bickford, Ainsley Bigelow, Samantha Buckley, Amber Burke, Daniel Gagnier, Thi Huynh, Ryan Jackson, Avery Mack, Ella McCoy, Julianna Ricker, Rebecca Vaughn and Alyssa Webster.
"We had 30 applicants, and our faculty committee accepted 12 for membership," said NHS Adviser Joseph Deckman, also an English teacher at Mexico High School. "This year's group is full of students dedicated to academic rigor, thorough service, and esteemed leadership. I am excited to see what this group accomplishes."
Current NHS members include Adria Ariola, Sage Clement, Tucker Donath, Anna Trimble, Alexa von Holtz, Erin Cadrette, Emma Lawler, Avery Oakes and Harmony Schroeder.
Deckman noted a blood drive in the high school gym and gathering holiday gifts for families in need as two major service projects in November and December for the NHS group.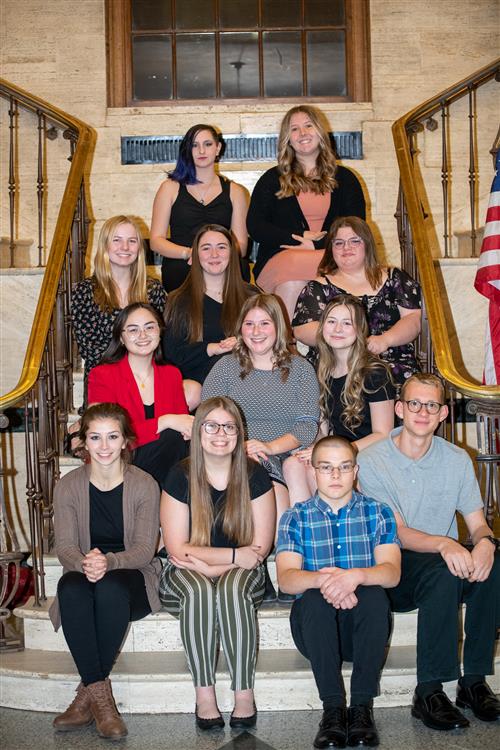 Pictured prior to the induction ceremony are the 12 inductees to the Mexico High School National Honor Society for 2022-23.