Terrific Tigers: Mexico's von Holtz, Ariola to play in college
Two decorated Mexico Tiger student-athletes were celebrated last week with a ceremony as they signed their letters of intent to play at the college level.
Alexa von Holtz, the first female athlete from MACS to qualify for states in swimming, will swim for Division I Ball State University and Adria Ariola, who has been on varsity soccer since seventh grade and played in two club state cup finals, will play at Roberts Wesleyan University.
"Traits that it takes to participate at the next level – Perseverance, Hard work, commitment, dedication," said Mexico Athletic Director Andrew Gates. "These traits not only have to be displayed by the student-athletes, but I do not think people realize how many hours these girls and their families spent on their sport outside of the regular season."
The duo was celebrated in front of family, friends and district administrators at a ceremony Nov. 9 where they both officially signed their letters of intent.
Alexa von Holtz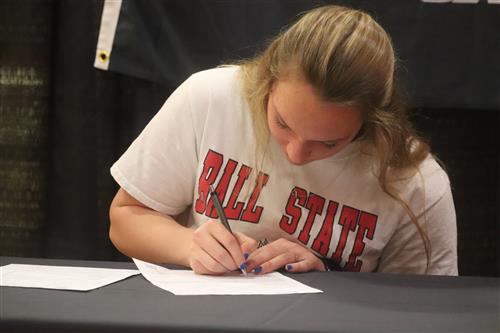 Ball State, a Mid-American Conference member at the Division I level, will get one of the most decorated Tiger athletes of all time, boasting a number of individual records and accolades.
Von Holtz is the school record holder in all individual events and all three relays at Mexico and was part of the first Tiger girls team to win a Section III title. She has been on the All-CNY team and first-team OHSL for the past five years, is a Junior National qualifier and is a state podium finisher in both the 100 butterfly and 200 medley.
She was winner of the Section III 100 butterfly title in 2017, 2019, 2022, 2021 and 2022; the 100 butterfly state qualifier in 2018-22; and the 200 medley sectional and state qualifier title in 2018-22. The Tigers named her team MVP for the 2018-22 seasons and she also boasted a number of local media athlete of the week honors in addition to being in consideration for All-American status.
Von Holtz is also strong in the classroom, and has been named a scholar-athlete all six years on the varsity team. She plans to study pre-med at Ball State. In addition to swimming, von Holtz is looking forward to living in Muncie, Indiana, which she called a nice area and said she has family not too far away.
"The coach is awesome and gave me a feeling on the tour that other coaches didn't give me," said von Holtz of her decision to attend Ball State. "One of the things that really stuck out to me was that he said he was rooting for me wherever I go, and it was a great thing to hear from a coach."
Her parents are Laurel and Dave von Holtz.
She thanked a number of coaches who have helped her through the years including Shawn Parkhurst, Dave von Holtz and Drew Thomas who she swam for growing up.
Adria Ariola
Ariola will go on to play midfield for Roberts Wesleyan which this season earned a spot in the East Coast Conference Championships and the NCCAA Tournament.
With the Tigers, Ariola had 33 total career goals and earned first-team all-league twice along with second-team all-league twice. She was named the team MVP in her freshman and junior years with senior year still pending. In her club career, Ariola played with five different teams across 14 years and went to the state cup finals with two of those teams.
"As soon as I stepped foot on the campus and met the coach, I knew that's where I wanted to go," said Ariola of Roberts Wesleyan, based in Rochester. "In the summer when I got my offer I was shocked because I wasn't expecting that after just going out there for a camp. It's surreal that it's happening."
Ariola's parents are Shelly and James Ariola. She also thanked Martin Charles who coached her throughout her varsity years, assistant coach Chris Harter and her club coach at Invictus FC, Rob Franco.