Top 100 honored by Mexico High School
The Top 100 Dinner celebrated the top 25 students from each class at Mexico High School on Monday, June 6.
Students, families and district officials were on hand to celebrate each student, who were called to the stage individually by class to receive an honor certificate.
Assistant Superintendents Elizabeth DiCosimo and Colleen Root spoke to the group and congratulated them on their hard work paying off, but also made sure the students took time to recognize their parents, teachers and friends' roles in that success.
Prior to the Class of 2022's honoring, a video played featuring student plans for after high school and college.
After the seniors, who graduate high school this month, students who maintained top 25 status all four years of high school were recognized and given a special honor cord.
Below is a class photo followed by a list of honorees in alphabetical order.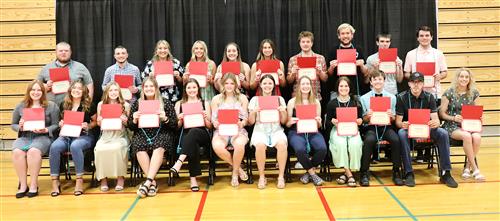 Class of 2022: Serena Bardin, Riley Baxter*, Grace Bogart, Alecsis Buda*, Rylee Buskey*, Evan Caroccio, Olivia Chrisman*, Mackenzie Craig*, Kendall Cuyler*, Jacob Edwards*, Alexander Gayne*, Abigail Hinman*, Ayden Jensen*, Justin Laffan*, Ryan Liedka*, Kian Long, Autumn Parkhurst*, Emily Parkhurst*, Joseph Reed, Lauren Salisbury*, Nathan Shepherd, Abigail Toland, Briana Urquhart and Carolyn Zedack*. (Star indicates Above & Beyond Award, given to students who maintain Top 25 status all four years of high school.)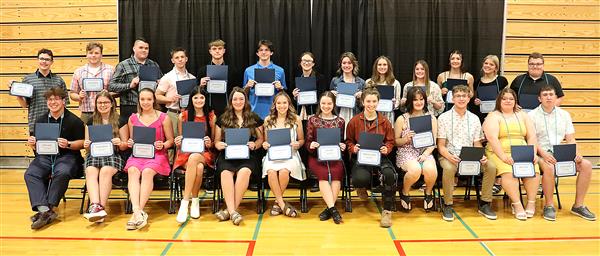 Class of 2023: Noah Britton, Amber Burke, Erin Cadrette, Sage Clement, Adrianna Denton, Tucker Donath, Lilly Duschen, Gabriel Fox, Jacob Gates, Jacob Hadcock, Cali Hopp, Cordelia Humiston, Luke Kinsey, Emma Lawler, Elizabeth Louis, Owen Marsden, Ella McCoy, Avery Oakes, Adam Pluff, Harmony Schroeder, Alexander Shomo, Anna Trimble, Rebecca Vaughn, Alexa Von Holtz and Alyssa Webster.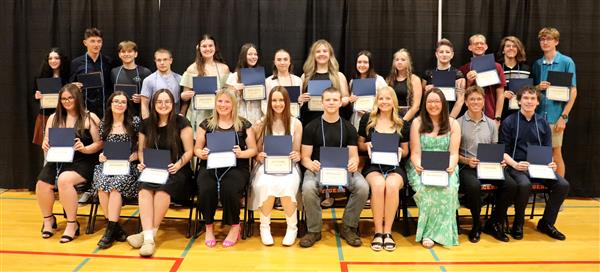 Class of 2024: Katelyn Baker, Ethan Becker, Alexis Bickford, Ainsley Bigelow, Tristan Breckenridge, Clarence Brownell, Everett Bryant, Emily Burlingame, Hayden Combs, Hailey Comstock, Grace Dann, Daniel Gagnier, Mason Hancock, Wyatt Hancock, Rosina Hawkins, Thi Huynh, Ryan Jackson, Sage LaFlamm, Avery Mack, Alexander Marthia, Sean McWilliams, Elliott Peabody, Harley Potter, Hayliann Smith and Logan Wilder.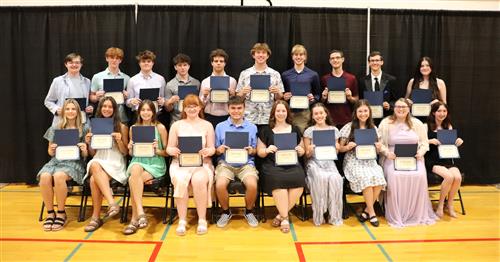 Class of 2025: Robert Babcock, Bennett Bertollini, Wyatt Chamberlain, Ethan Clark, Brylea Connolly, Giana Cutuli, Wyatt Dann, Zachary Fox, Riley Gagnier, Timothy Gorman, Zoe Grzesik, Mackenzie Harders, Kieran Henderson, Emily Hough, Natalee Judge, Cosette Laffan, Luke Lemke, Stefano Magro, Sarah Marsden, Kaden Perry, Isabella Ponzi, Cayden Roy, Kylee Urquhart, Samuel Warchol and Alissa Wilson.