MACS freshman honored for original poem
A Mexico High School freshman's writing has been selected for a prestigious publication that will be housed in the Library House of Congress in the nation's capital.
Luke Lemke, who is in ninth grade at Mexico Academy and Central School District and also a member of the Creative Media Club, had his poem entitled "Writer's Redemption" selected out of 5,000 entries to go into the book "Empowered – Voices In Verse."
"Luke is incredibly creative, talented and works very hard to hone his writing skills," said Anne Michaelis, a MHS English teacher and advisor of the Creative Media Club. "His poem is outstanding, and I hope he continues to read and write creatively in school and also in life."
Lemke's poem is in consideration for the contest's overall top three, which will be announced in September. Each of the top three receive a $100 prize.
Any student from MHS who is interested in reading, writing and other forms of digital media are encouraged to join Creative Writing Club – just reach out to Mrs. Michaelis!
Luke's poem appears in its entirety below.
WRITER'S REDEMPTION
by Luke Lemke
"Tick! Tick!" The second hand is moving, my thoughts are racing, illuminating so many ideas worth chasing.
My pencil gripped, my heartbeat skipped.
"I've got it!"
With a masterpiece in mind, I begin to write, but the point on my graphite began to crumble…
And I lost what I would find, a perfect train of thought.
I fell into despair!
How unfair it was for my ideas to disappear.
I realized what I had missed, and suddenly came to know, how powerful words are, ever so, ever so!
If one uses them correctly, they will find, that words can empower any mind!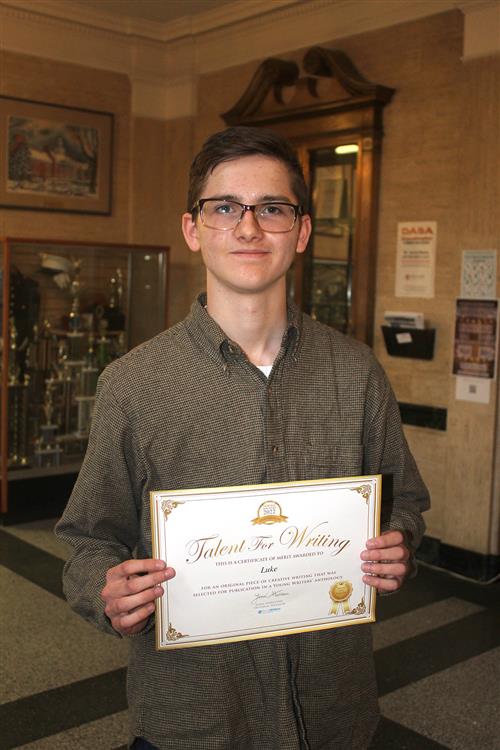 Luke Lemke is pictured