Districtwide 3/4 Battle of the Books held
In another thrilling edition of the district-wide Battle of the Books competition for MACS third- and fourth-graders, a Mexico Elementary School team walked away winners in what was a highly competitive match.
The trio of Lillian Smith, John DeStevens and Aria Pultorak, known by their team name "The 3 Rockin' Racers" won the six-team competition that included two teams from each of the district's three elementary schools.
"The 3 Rockin' Racers are all about synergy," said Mexico Elementary Librarian and team mentor Meg Cernaro. "They put first things first and have practiced very proactively for these battles. We are all proud of their hard work and determination!"
The six teams gave their all during the competition during a recent evening in front of a crowd of family and friends in the Mexico Middle School Auditorium. All teams had qualified for the contest by earning a top two finish in their on school-wide Battle of the Books.
As part of the Battle of the Books competition, student book enthusiasts form teams, read a selection of chapter books and then answer questions to test their reading comprehension and knowledge. The teams faced off in two rounds of eight questions each, with a tiebreaker required to determine second place.
Ultimately, The 3 Rockin' Racers won the competition with Palermo Elementary's Team Puppy in second, followed by Mexico Elementary's Book Rockets in third. Other teams that qualified and took part in the district Battle of the Books included Palermo's The Super Kittens and New Haven's The Book Bosses and The Readers.
The winning trio advances to take on other districts' champions in a regional Battle of the Books which will be streamed live on Friday, April 22 on YouTube via the following link: https://www.youtube.com/watch?v=cCG6WmMHNak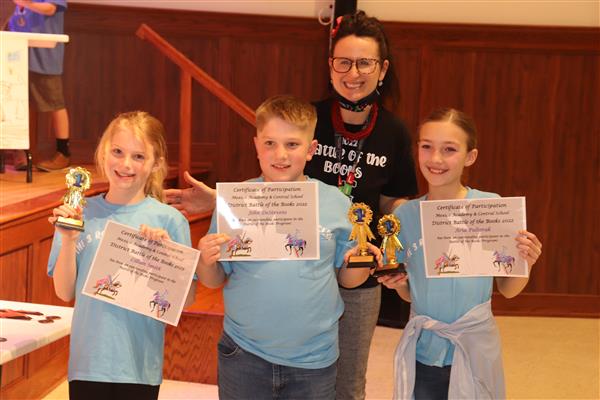 Pictured are the winners of the grades 3 and 4 Battle of the Books.