Proud to be MACS: November 2021
Below are the remarks from Mexico CSD Board of Education President James Emery offered in recognition of the November 2021 Proud to be MACS honoree Jennifer Spaulding of Mexico High School. MHS Principal James Busco also offered congratulations and kind words during the meeting.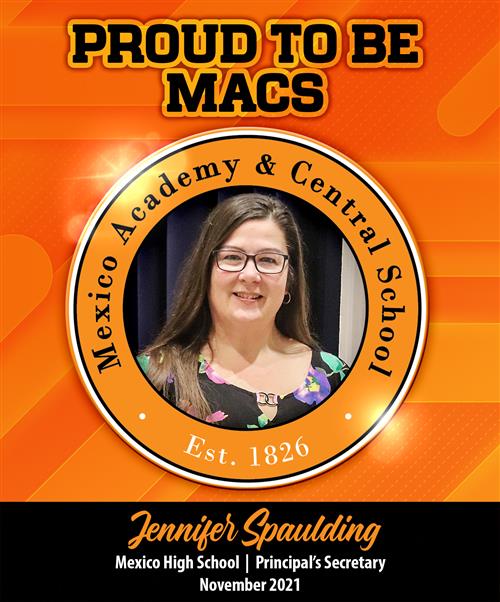 For some, November is the month for remembering our Veterans that fought for our country's freedoms; for others, it is the month for counting our many blessings at the Thanksgiving table; for Jenni Spaulding, Secretary to the Mexico High School Principal and this month's recipient for Proud to be MACS, November is the month for several significant anniversary dates.
Jenni grew up in New Haven and graduated from MACS in 1989.
Following graduation, Jenni would obtain an Account Clerk Certification and begin working for the Oswego County Department of Social Services in 1990.
The first significant November date occurred in 1992 when Jenni joined the MACS District at the Mexico Middle School in its main office working for Principal John Ruf. In November, 2008, Jenni moved to the Mexico High School working for Assistant Principal Christine Plath. Finally, this November, Jenni is starting her 30th year with the District!
Along the way, Jenni married Eric and was blessed with children Nathan and Katelynn. I will take this moment as President of the MACS Alumni Association to acknowledge that Jenni's children represent the 4th generation of MACS graduates that started with her grandmother Mildred Robinson Murray in 1952. With such history, it was not surprising when Jenni told me that she "bleeds" orange and black.
Jenni would move to the Principal's office in 2010. Her principal, at that time, was Don Root. Don, who recently retired from the Baldwinsville School District, returned to MACS to serve as our High School Interim Assistant Principal for the last few weeks. I was able to ask Don about Jenni's contribution to the High School.
Don stated that Jenni was highly organized. In turn, this characteristic kept the High School organized. Don listed a few examples like Jenni having all of the substitute positions filled by the time that he arrived each and every morning; reminding everyone of what meetings needed attending; and reviewing with the principal on Mondays the upcoming week's schedule of activities to be sure all bases were covered.
After Don left MACS, Ryan Lanigan was appointed High School Principal. Though now serving as High School Principal at his Alma Mater, the Oswego City School District, I reached out to Ryan for a few of his thoughts on Jenni.
Ryan writes, "I am writing this letter to commend Jennifer Spaulding on her "Proud to be MACS" recognition. I had five amazing years to work with Jenn. During my time at MHS, I quickly realized she has a stellar work ethic and a passion for helping our staff, students, families, and especially me. Jenn was a fantastic resource and a confidant during our time together. She was invaluable in helping me assimilate easily into my role so quickly. Her enthusiasm for her work, her superb communication skills, and great knowledge of the district and community made Jenn an instant asset for me as a new High School Principal. Jenn was always extremely competent and organized, and her positive attitude and sense of humor made coming to work every day fun and worthwhile."
At this time, I will ask current High School Principal, Jim Busco to say a few words on Jenni's behalf.
Jenni's nominator, Diane Bush writes, "Jennifer Spaulding deserves recognition for all her tireless work in the Main Office at the High School. When you have a question and need an answer, Jenni is your go-to person. She balances a tremendous amount of work on her shoulders while remaining positive and patient. She ensures that our clubs and organizations follow protocols and procedures (especially in regard to finances), takes on the role of graduation coordinator, handles all substitutes (or lack of and juggles our staff to ensure coverage) and is instrumental in providing for the smooth operation of the high school....It's been said that when you really want to know who's behind the operations of an organization, look to the secretary. In this case, Jenni does a great job handling schedules, coordinating meetings and taking care of a huge array of other essential tasks. Jenni is an essential and valuable member of MACS and has been for many years."
When I asked Jenni for a favorite part of her job, she stated she loves working with the students and staff to make her Alma Mater the best that it can be.
As for her favorite memory, she stated two.
First, she has been proud of her contribution to making the annual senior awards ceremony meaningful to both the donors and the recipients. As one of those donors, I certainly appreciate her efforts. I am also amazed at how she streamlined this ceremony into a timeframe of less than two hours.
Her other memory stems from serving as Graduation Coordinator. She has created an event that encompasses tradition with ceremony that always fills her heart with great joy when it is complete. I might add that this graduation ceremony, like the senior awards ceremony, efficiently moves along.
Concerning this graduation ceremony, I will return to Ryan Lanigan's remarks. He writes, "She was there to lend a helping hand whenever it was needed and did so much work to make our MACS graduation a success every year. In five years together, we only were able to have the same graduation set up for two of the years due to the stadium construction and the pandemic. We gracefully navigated one of MACS most traditional and important events and our students and families were very appreciative of our efforts. Jenn was the reason it was so well organized every year."
Ryan concludes his remarks with, "Jenn understands the value of loyalty, integrity, and teamwork. These are qualities that will help any administrator she works with have great success. I would not have been able to accomplish anything without her working right alongside me! Jenn, I was so lucky to get to work with such an amazing secretary at MHS. Thanks for all you did and still do for everyone at MHS."
So Jenni, for being highly organized, efficient, and tireless in your many responsibilities including, but not limited to, Secretary to the High School Principal, Senior Awards event planner, and Graduation Coordinator, but, most importantly, for bleeding orange and black and making your Alma Mater the best that it can be, it is most appropriate that we, the Board, recognize you in your special month as our Proud to be MACS recipient for November, 2021.