3 students first ever to earn Seal of Biliteracy at MACS
Three Mexico school district graduates spent countless hours learning and becoming proficient in a foreign language and have become the first students to earn their Seal of Biliteracy from the Oswego County consortium and district.
Juliana Hernandez and Alli Kerr earned their distinction in Spanish, while Tyler Yankee received his Seal for French. The trio was honored at the Mexico High School Senior Awards and last week graduated from the Mexico Academy and Central School District.
To earn a Seal of Biliteracy from New York State, students must earn a Regents diploma and complete a certain number of criteria in both English and their second language of choice.
Diane Bush, a longtime Spanish teacher in the Foreign Language Department who is the Coordinator of the Seal of Biliteracy for the district, said the three students worked hard every step of the way and earned this "high achievement."
"I am very proud of our three students Juliana Hernandez, Alli Kerr and Tyler Yankee for trailblazing the way and demonstrating how hard work and true grit yields big returns in the end," Bush added. "Their world language learning and appreciation for culture will serve them well in their future endeavors and open doors to a more rewarding life."
Hernandez has studied Spanish for five years and was inducted into the Spanish and National honor societies and before the pandemic was captain of the Mock Trial team, secretary of the Rocket Club and vice president of the Composting Club. Her parents are Julio and Jamie Hernandez.
"Spanish has always been a part of my life as I am first generation Mexican American," Juliana said. "However, I feel as though in these last few years and especially in these last few weeks with the Seal of Biliteracy, I have been able to really see what I'm capable of as a speaker."
Kerr has studied Spanish six years and was in the Spanish Honor Society and Spanish Club, serving as president of the club for two years. She said she was "very proud" of earning her distinction and encouraged others learning to not give up, saying "it's OK if it doesn't come easy" and "it is truly worth it if you're invested."
In the fall, Kerr plans to major in Spanish at Siena College. Her parents are Morgan Fazio, Bill Kerr, Thomas Fazio and Jessica Kerr.
Yankee has spent six years studying French and has been in French Honor Society for three years, serving as secretary junior year and president his senior year. He thanked his French teachers Mr. Smith, Mrs. Kimberley Harter and Mrs. Alyshia Cottet.
"Learning a second language opens up many opportunities for college, careers, and travel, and more broadly enables you to see the world through a different cultural lens," said Yankee, whose parents are Patty and Jeff Yankee.
Bush mentored Kerr and Hernandez, while Harter, a now-retired longtime French teacher at Mexico, was the program mentor for Yankee.
Mexico High School is part of the Seal of Biliteracy Oswego County Consortium. This is a group of some Oswego County schools which partner together to pool resources and ideas.
They serve as panelists and evaluators of each other's students presenting their World Language Seal projects. Panelists from Central Square and Oswego schools helped to evaluate the Mexico students this year.
Students in level 4 or 5, Checkpoint C, are eligible to start the process of earning their Seal. The Seal is granted at the end of their senior year, once all requirements are met in both English and the world language. Each interested student fills out an application and upon acceptance is then assigned a mentor who will guide them through the process.
"It is a pretty big-time commitment and a very big learning curve both in the responsibility of the student and the language level requirements, so we are hoping to start the process right out the gate in September," said Bush. "Although it's a rigorous process, our students reported that it was a truly rewarding experience."
For the foreign language portion, students engage in scholarly research and produce artifacts in the language to showcase their proficiency in speaking, reading, listening and writing. As a culminating project, they share their research findings with the panelists in an eight- to 15-minute presentation and then respond to several follow-up questions in the language.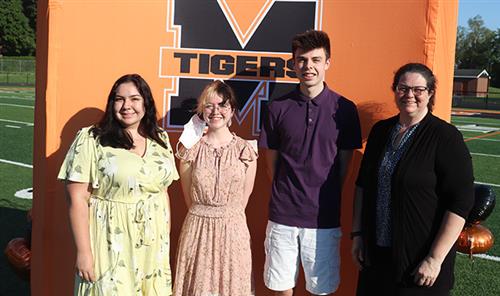 Mexico Academy and Central School District's celebrated its first students ever to complete the state Seal of Biliteracy during the Senior Award ceremony in June. Students receiving the Seal of Biliteracy are, from left, Juliana Hernandez (Spanish), Alli Kerr (Spanish) and Tyler Yankee (French) alongside district Coordinator of the Seal of Biliteracy, Diane Bush.