Senior composing music to be played in concert
A Mexico High School senior is seeing his musical composition come to life through a rare and enriching opportunity with a local professional orchestra.
Logan LaFlamm, a senior at the high school, has been attending regular sessions featuring musician-led cooperative orchestra Symphoria and Syracuse University's Setnor School of Music. He is one of just three CNY-area students to have pieces selected to compose a short work to be performed by the professional orchestra in concert.
"I was very thrilled to say the least," said LaFlamm. "Being able to speak to these professionals who have a passion for music from bigger schools and get this direct interaction with renown professors, it has been great and an amazing learning opportunity."
He attends sessions every other week but sometimes more often as they flesh out the composition he submitted. LaFlamm describes his composition that is slated to be performed at a concert in April as a "dark and eerie" piece that has swing elements to give it a "kind of jazzy" feel.
"I wanted to utilize the orchestra and take something that's a bit less conventional and apply it to string instruments in the orchestra setting," he said. "Something upbeat but dark at the same time, I find that mood very entrancing so I'm excited to flesh out the piece I have so far."
LaFlamm submitted a short composition for consideration as part of the joint venture with Symphoria and Syracuse University, and the final version will be roughly 40 measures long while lasting around a minute.
It's up to him to make sure each of the nine sections has the proper instructions and music to make his work come to life as he'd like it to be, and he's been receiving tips and incorporating feedback from top musicians in the area.
"He's a self-starter, he went out and said 'I want to do this' and really without a whole lot of help was able to compose an original piece of music that got him another opportunity to compose even more music," said Brian Carnes, the HS director of bands. "This experience is going to be so valuable and it's an incredible opportunity for him."
LaFlamm has been a member of the MACS band program since fourth grade, taking up the saxophone which he still plays today. He's taken part in all-county band, NYSSMA solo fest, marching band, jazz band and more throughout his time in the band program, which in 2020 once again earned MACS the distinction of Best Communities for Music Education by the NAFM Foundation.
"I really enjoy our band program," said LaFlamm. "Because we're a fairly small school, it's a lot more personalized, and it really helps you on a personal level get better. It's fun and informative, gets you to love music and has made me want to share that with other people."
After graduation, LaFlamm said he hopes to attend college for musical composition with applications already out to Nazareth College and SUNY Potsdam. One day, he hopes to compose music for any form of media including movies and video games, noting he hopes to show "someone who underestimates the power of music that it can enhance their experience."
LaFlamm thanked Carnes for the years as his student, noting the MACS teacher as a force and major influence in his musical passion and ability. He also thanked his family, parents Steve and Carrie LaFlamm along with his sister, Sage.
---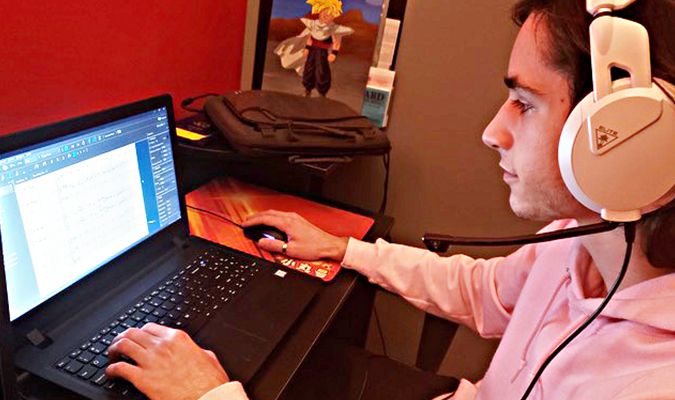 Pictured is Mexico High School senior Logan LaFlamm working on his musical composition.