Dr. Donna Runner appointed as Superintendent
With a large range of experience in education and an enthusiasm to get the best out of every student, Dr. Donna Runner has been appointed as Mexico's new Superintendent by its Board of Education.
Dr. Runner spoke briefly about her excitement to be joining the Mexico Academy and Central School District during last week's board meeting, held Thursday, Nov. 5 at Mexico High School, during which she was officially appointed with a start date of Dec. 14.
"I got a chance to tour every school and meet a lot of teachers and students while watching a lot of focused learning taking place. Everyone was so passionate and the buildings are so clean and beautiful," Dr. Runner said. "I'm really honored and appreciative to the board for their support and trust. I can't say enough how much I'm looking forward to working with everyone here, I am really eager and excited to get started."
MACS Board of Education President James Emery introduced Dr. Runner officially, touting her diverse and wealth of educational history along with her strong leadership qualities.
"Dr. Runner possesses a wide range of educational experiences and is very excited to share her experiences and knowledge with the students and staff of our district and looks forward to meeting the many challenges that lie ahead using a collaborative, transparent and honest style of leadership," said Emery.
Dr. Runner comes to Mexico from the Gouverneur Central School District where she has served as the Assistant Superintendent for Curriculum, Instruction, and Federal Programs for the past four years. She will take over for Interim Superintendent Michael Schiedo, who district officials thanked for his leadership since July while the district conducted an extensive months-long search for a permanent appointment.
After growing up in Columbus, Georgia, Dr. Runner went to school in Philadelphia, Pennsylvania where she met her husband. She spent more than a decade in various roles there, including middle school teacher before becoming an academic coach, principal and Acting Deputy for Curriculum and Instruction.
When her husband took a job in the North Country, New York, noting family as the most important thing in her life, Dr. Runner moved too and accepted the position of assistant superintendent in Gouverneur.
Dr. Runner said she truly believes that all kids can learn given the right resources, and that "everyone can get better," adding "it's our job as teachers to identify where kids are and use all the tools we have" to encourage that growth.
She also stressed that ensuring students are safe is a top priority, noting the ongoing pandemic and school safety as a paramount task for all administrations today.
"We will never compromise the safety of scholars or staff, it's not going to happen," Dr. Runner said. "To do that, you take all the information you have available, the experts who give you advice and you put systems in place to ensure you have plans for every situation. We want students and staff to be safe emotionally and physically when they come to our buildings."
Dr. Runner also spoke about the wonderful community she is excited to be joining as she moves to the area soon, saying area residents are very friendly and passionate about their home.
"The people are proud to be from Mexico, they are proud of their community and school district," she said with a smile. "I just fell in love with the idea of living in the school district. You just get a really good feeling about the people, they're all very nice and they've certainly made me feel welcome."
---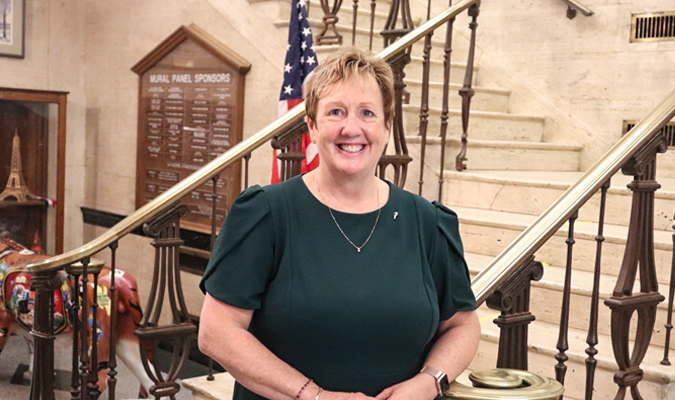 Pictured in Mexico High School's foyer is Dr. Donna Runner on the night she was officially appointed as Superintendent of Mexico Central School District by the Board of Education at its November monthly business meeting. Her official start date is Dec. 14, 2020.