MACS BOE VP named Board Member of the Year
Mrs. Darlene Upcraft has been recognized as the Oswego County Board Member of the Year.
Since 1996, she has served on the Mexico Academy & Central School District Board of Education, where she has served as vice president for the last seven years and has offered her time on the policy, facilities, website, capital projects, technology and school-based health center committees.
MACS Board of Education President Jim Emery said he considers Upcraft the heart and soul of the MACS BOE, as well as its historian and queen of policy.
Additionally, Upcraft has served on the Board of Education entities through: the Center for Instruction, Technology & Innovation, Oswego County School Boards Association and Central New York School Boards Association. Upcraft retired from the CNYSBA last year. She was a frequent attendee of New York State School Boards Association events, in which she earned a Board Lifetime Achievement Award.
She has beamed with Tiger Pride, having graduated from MACS in 1974. She earned an associate's degree from SUNY Morrisville and a bachelor of science degree from SUNY Oswego. Upcraft retired from Anheiser-Busch Brewery and remains a proud mother of her son, Kevin.
Throughout the years, Upcraft has said that students are "our greatest customers" and that she has tried to give them her best possible service.
---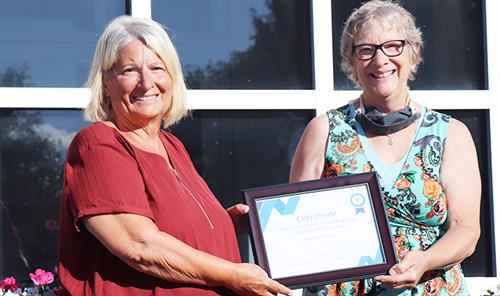 Darlene Upcraft (left) is recognized as Oswego County Board Member of the Year. Presenting the award is CiTi BOE Vice President and Oswego County School Board Association Representative Donna Blake.