MACS athletics named School of Excellence by state
The Mexico Academy and Central School District has been honored by the state athletics association as a School of Excellence.
At the end of each year, the New York State Public High School Athletic Association (NYSPHSAA) honors teams and individuals that work hard in the classroom, and MACS was one of just 15 Section III schools to receive this honor.
"It is truly an honor to receive this recognition for our school district for the second year in a row," said MACS Athletic Director Andrew Gates. "In our athletic programs we emphasize that it is just as important to strive for excellence in the classroom as well as in athletic endeavors. It truly takes everyone, the student-athletes, coaches, parents, teachers, staff, and the community working together to achieve awards such as this."
A district earns School of Excellence status by having 75% of its varsity teams qualify and receive the Scholar-Athlete Team award during their respective sports seasons. For teams to receive that recognition, 75% of the roster must have an average of 90 or higher.
---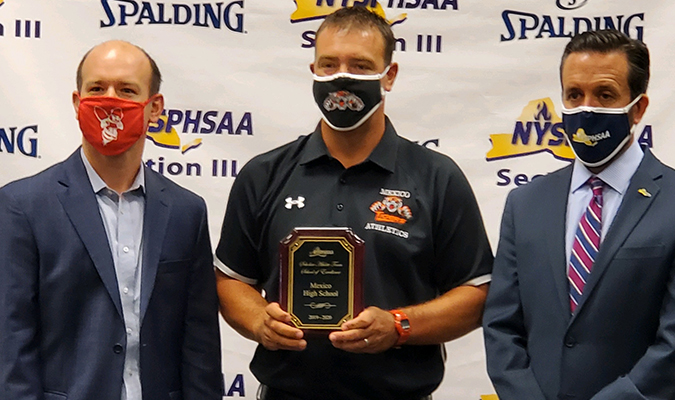 Pictured at the center is Mexico Athletic Director Andrew Gates earlier this month accepting an award from NYSPHSAA declaring the district as a School of Excellence for its achievements inside the classroom. Also pictured are Section III President Joe DeBarbieri, left, and NYSPHSAA Executive Director Robert Zayas.