Video made by robotics team recognized by Vex
The Mexico High School Vex Robotics team recently celebrated its year virtually, being honored during an international ceremony.
The team, also known as TORQ and Team 1757 in the robotics community, was honored during the virtual ceremony in late April for winning the Vex VRC Promote Award for their video submission of "Welcome to 1757."
The video, which is on YouTube, aims to engage with students and encourage them to join the robotics club through a creatively told story showcasing many of the team's highlights over the past two years.
Galen Fellows, a science teacher at MACS who oversees the robotics program, said he was extremely proud of the group's hard work and noted how inspiring it's been to see them progress so far in the first few years.
"Words cannot begin to express how incredibly grateful I am to have been able to see how much of a family they have created for themselves," said Fellows. "They are constantly striving to better themselves as individuals by helping those around them realize their own potentials."
At the end of the livestream, Mexico's team was surprised with an invitation for members of Team 1757A to the 2021 Vex World Championship in Dallas as a result of winning the Promote Award.
The team was also honored at the New York State competition in late February with the Educate award, given for helping spread the love of robotics and STEM throughout the community.
It appears that interest has taken hold throughout the district, with Fellows noting the Middle School's new program could have two to three teams competing at the Vex IQ level starting next year.
Here is the link to the award-winning video: https://www.youtube.com/watch?v=6FYXGos578E
---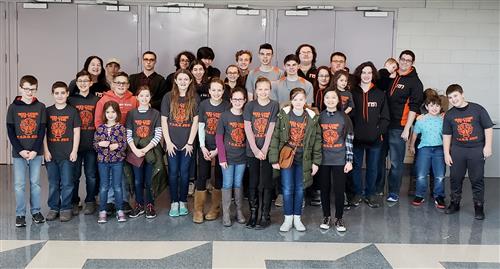 Pictured at the New York State Vex Robotics Championship in February is the Mexico High School Vex Robotics team alongside strong support from younger students in Mrs. Snyder's Girl Scout troop and middle school members who are working on forming a TORQ byte team with teacher assistant Mrs. Osborn.