Workout vids keep students moving, connected
A physical education teacher and coach from Mexico High School has been hard helping to keep students moving during the COVID-19 pandemic.
But the workout videos MACS' Shawn Parkhurst posts help do so much more, he says, noting it helps connect the students, keeps them engaged and help alleviate stress and anxiety in these uncertain times.
The workout videos are part of a larger effort by the MACS Physical Education Department, which has been releasing regular health tips, dietary information and games via the district's Facebook and Twitter.
Parkhurst — whose story was featured on NNY360.com in early April — said while physical activity is always important, it's especially so during this unprecedented event.
"Many people will feel stressed, anxious, and worrisome because of the uncertainty of things taking place around them," said Parkhurst. "Workouts, getting outside for a walk or any form of physical activity is a way to help reduce those stressors and provides a positive outlet for that nervous energy."
Parkhurst, a 2009 MACS alumni, was quick to embrace digital learning as his first video came the same week that schools first closed in mid-March.
He typically posts three videos to YouTube each week with various 15-25 minute workouts that can be performed with no equipment or common items found around the house. The skill level can be modified by Parkhurst to suit older and younger student needs.
Now more than eight weeks in, Parkhurst said the response has been very positive as the videos have proven to be a good way to connect with families and students get to see a familiar face guiding them through the workouts for a sense of normalcy.
Parkhurst has taught at MACS since November of 2014 as a PE teacher and Aquatics Coordinator. He teaches mainly in the high school, but sees younger students for aquatics training during the school year. Parkhurst is head coach for the Mexico boys and girls varsity swim and diving teams, runs the Mexico Tiger Sharks Swim Club and oversees the Unified Basketball team for students of all abilities.
A playlist containing most of Parkhurst's workouts can be located via YouTube at the following link: https://youtube.com/playlist?list=PLpoiZgod1kpLSquOIxgLMRfeugYB6mmMd
---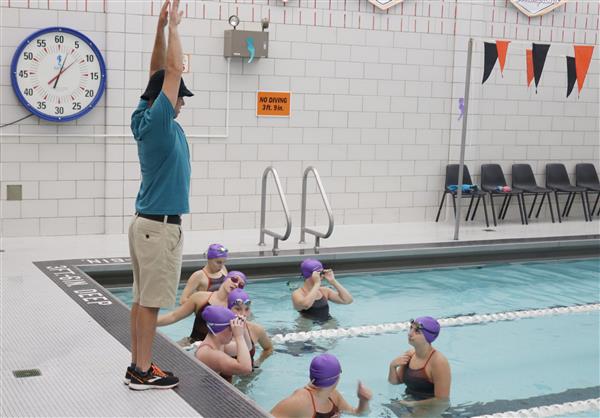 Mexico girls varsity swimming and diving coach Shawn Parkhurst gives instruction to his team prior to a meet at Mexico High School dedicated to raising funds for local suicide prevention during the 2019 season. Parkhurst, who also teaches physical education at MACS, has been releasing workout videos to keep students moving during the pandemic.