MS student to learn about ocean pollution
A seventh-grader from Mexico Middle School will embark on a journey of a lifetime this summer as Julianna Ricker has been accepted to an exclusive camp in Canada aimed at fighting ocean pollution.
Along with her friend, Ricker launched a campaign to limit the use of Styrofoam in the cafeterias and gathered about 180 signatures before earning a meeting on the subject with a business official. Now, she wants to learn how to spread her message of eco-friendliness beyond the school walls.
"I'm looking forward to learning more ways to raise awareness," said Ricker, adding she's incredibly excited for her first opportunity to travel. "I know I can inside schools, but there's a bunch of people who don't have kids in school and I want to get word out to them in the community."
That's where the Ocean Heroes Bootcamp for youth leaders aged 11 to 18 comes in. Running from June 28-30 in Vancouver, Canada, the camp instructs its attendees in the areas of science education, global plastics policy, critical campaigning, artivism, media literacy and idea incubation.
The idea for the middle school campaign began with Ricker taking part in her science teacher Alicia Archer's beach cleanups with her ecology class.
As a member of Mexico Middle School's AVID (Advancement Via Individual Determination) class, the focused curriculum afforded Ricker the opportunity to create the petition, have peers offer insight and do a couple of test runs before the presentation. Brittany Malone, an AVID instructor, said Ricker's cause was an incredibly inspiring choice.
"I'm happy to see she was inspired by the beach cleanup, then she had this idea and followed through," said Malone. "That's not something we always see at this level and it's very impressive for a seventh-grade student."
Archer, who noted how proud of Ricker's achievements she is, said the AVID program can make a big difference in a student's development.
"She's got courage and a lot of self-confidence. The self-confidence I know is fostered a lot by the AVID program," said Archer. "I teach students that are in the program and ones who aren't, and I do see a difference in the self-confidence level."
AVID is an elective course for seventh- and eighth-grade students, helping its pupils work on collaboration, organization, inquiry, college prep, reading and writing.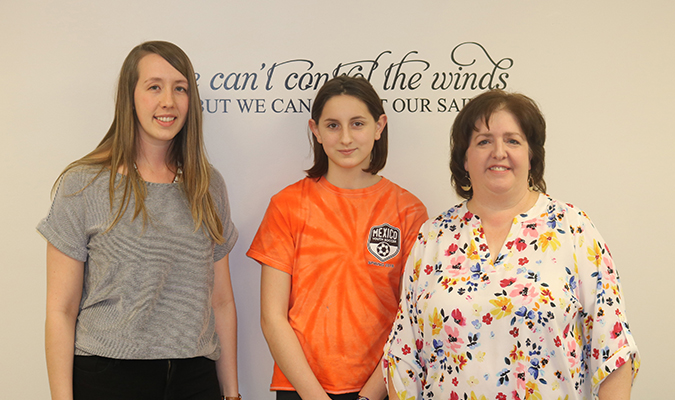 Mexico seventh-grader Julianna Ricker, center, will go to Vancouver this summer for a summer camp where she will learn about fighting ocean pollution. Ricker is pictured along with two teachers who helped inspire her to go on the journey. From the left is Brittany Malone, Ricker and Alicia Archer.