Mexico begins county-level Mock Trial competition
In a case involving rent-controlled housing in fictitious Gotham City, students from Mexico began arguments in the 2019 Oswego County Mock Trial competition held at the Public Safety Center in Oswego.
Volunteer judges, Judge Spencer Luddington and Judge Walter Hafner heard the case presented for the first time by the student teams. Mexico faced off against teams from Central Square and Sandy Creek.
Mock Trial is co-sponsored by the New York State Bar Association and provides students with hands-on exposure to criminal and civil law and courtroom practices.
In the 2019 case, Harley Davison claims to have moved in with his/her aunt, Barbra Stone, when she was a resident in a rent-controlled apartment. The aunt was 95 years old and needed care and assistance. Following her death, Davison filed to continue to remain in the apartment at the rent-controlled rate but his case was denied. The resulting case centers around the Department of Housing Preservation and Development's belief that Harley failed to provide documentation to prove his/her residency prior to the aunt's death and therefore is not eligible for succession rights to the apartment.
The teams are provided with evidence and witness statements to work with and build their case for the prosecution or the defense and are prepared to represent either side in the mock trials. The students portray all parties in the case including witnesses and attorneys.
The student attorneys begin with opening statements and proceed through calling witnesses to substantiate their case. They end with closing remarks and summation. Following the completion of the case, the guest judge makes a ruling on the case and that team advances in the competition to face another opponent. For the opening mock trials, a fourth team was unable to attend so the judge decided to make the first competition a learning opportunity for the teams and provided feedback and suggestions on how to proceed when they meet again. The next county competition is Tuesday, March 26.
Winning teams advance through various levels of the competition before moving to a state-wide final in May held in Albany.
Mexico team members include: Ashley Clement, Brionna Emery, Morgan Fischer, Nicholas Hartmann, Kimberly Heagerty, Julianna Hernandez, Calla Lewis, Caden McCormack, Jordan Novak, Libby Sheldon, Emma Teeter and Myles McMahon. The team is coached by Danielle Dubrule.
Oswego County Coordinator for the Mock Trial is Tina Bennett.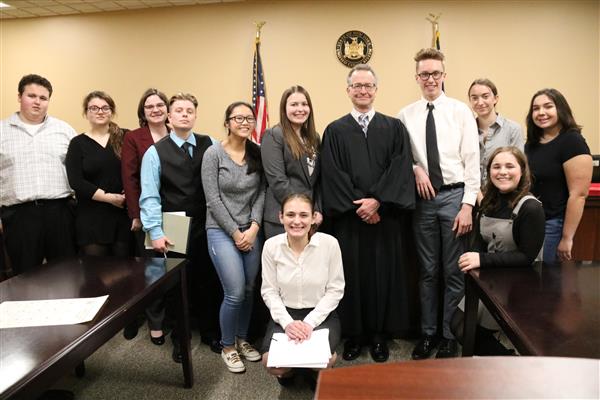 Judge Spencer Luddington is pictured recently with the Mock Trial team from Mexico High School.