Class of 2019 Top 10 revealed
It's official: Mexico High School has revealed its Top 10 seniors for the Class of 2019.
Kimberly Heagerty and Calla Lewis have earned the distinction of 2019 Valedictorian and Salutatorian, respectively.
Along with Heagerty and Lewis, others obtaining Top 10 status this year include Joshua Washer, Sheila Wallis, Madeline Higby, Jolie Pelow, Brionna Emery, Caleb Kinsey, Logan Craig and Emma Teeter.
Principal Ryan Lanigan made the announcement recently, noting the group as quality individuals who work very hard in and outside of the classroom.
"We could not be more proud of this groups achievements, and we can't wait to see what their next steps bring," said Lanigan, noting many of the students are involved in multiple extracurricular activities.
The 2019 graduation ceremony is scheduled for Friday, June 28 at 7 p.m.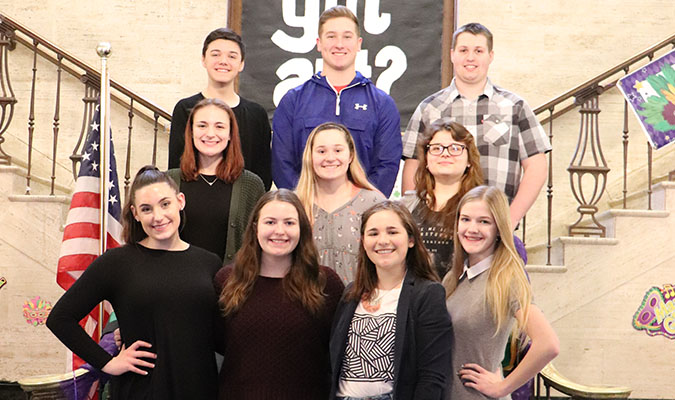 CONGRATULATIONS: Recently, Mexico High School announced its Top 10 seniors for the Class of 2019, who are pictured in the school's historic foyer. In the front row (from left) are Sheila Wallis, Calla Lewis (Salutatorian), Kimberly Heagerty (Valedictorian) and Madeline Higby. Middle row: Brionna Emery, Jolie Pelow and Emma Teeter. Back row: Joshua Washer, Logan Craig and Caleb Kinsey.