Palermo illuminates as Lighthouse School
Palermo Elementary School has officially been named a Lighthouse School with the Leader in Me program.
The accomplishment has followed years of dedication from school staff members and students who, collectively, have remained committed to learning and implementing the 7 Habits: begin with the end in mind, put first things first, be proactive, think win/win, seek first to understand, then to be understood, synergize and sharpen the saw. Principal Margaret "Peggy" Scorzelli arranged confetti to be thrown during the special ceremony in the school cafeteria before she reviewed how the school achieved its ultimate goal.
"When you become a lighthouse school, it means you hit a milestone," she said. "We couldn't have done this without all of you."
Palermo Elementary School is the first Lighthouse School to be named in Central New York, and one of only 16 in New York State and one of 421 throughout the world. Gary McGuey, 7 Habits/Leader in Me coach, joined Scorzelli for the occasion and he congratulated the students and staff members on one of their greatest accomplishments.
Scorzelli shared with students that their school culture, leadership abilities and academic performance helped the school reach Lighthouse status. The purpose of a lighthouse, she said, is to shine light for ships when they are traveling in the dark. Palermo Elementary will now light the way for surrounding schools to also serve as a Leader in Me example.
With that designation, Scorzelli cautioned, Palermo Elementary will continue to learn, grow and improve. As a surprise to the school, members of the beautification enrichment club presented a colorful lighthouse creation to be placed in the school garden. With a solar light atop of the fixture, light will forever shine brightly to show passerbyers and visitors that Palermo is indeed a Lighthouse School.
The event concluded with everyone enjoying lighthouse sugar cookies and singing "You're My Flashlight."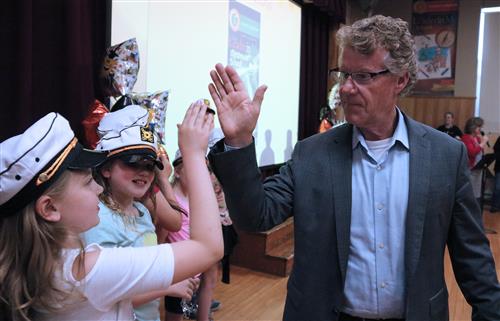 Gary McGuey, 7 Habits/Leader in Me coach, high-fives Palermo Elementary School
Student Lighthouse team members after Principal Margaret "Peggy" Scorzelli
announced to the students that the school had been named a Lighthouse School
with the Leader in Me program, following years of hard work.