Palermo teachers enhance learning experience
Palermo Elementary School staff members broke out!
A handful of teachers recently attended a BreakoutEDU activity, led by Librarian Tiffany Carpenter, to find out how the school's promotion of the Leader in Me initiative may lead students to fun and exciting ways to better understand academic lessons.
In a timed 25-minute event, the participating teachers practiced what they preached, using teamwork, problem-solving skills, context clues and instructional knowledge to find answers which unlocked each box, step or code before they reached the end of the game. Social worker Dian Roberts, intervention specialist Dan Trinca, first-grade teachers Karen Metcalf and Rita Jardin, special education teacher Jacqueline Havener, third-grade teacher Megan Cernaro and fourth-grade teacher Tracey Reynolds worked together to solve riddles and find codes to unlock each step.
Carpenter said utilization of the school's five BreakoutEDU kits may also be paired with a digital format of online clues, scanned QR codes, iPad usage and other technology-related items. The team solved everything with five seconds to spare.
Typical BreakoutEDU adventures, Carpenter said, are at least 45 minutes long. Only a handful of teachers have worked with the BreakoutEDU kits, but Carpenter hopes staff time for the academic fun makes staff members more comfortable with the idea and they filter them back into their classrooms.
Cernaro has used BreakoutEDU for math review and Carpenter has created her own BreakoutEDU games for students in grades three and four to practice their library skills.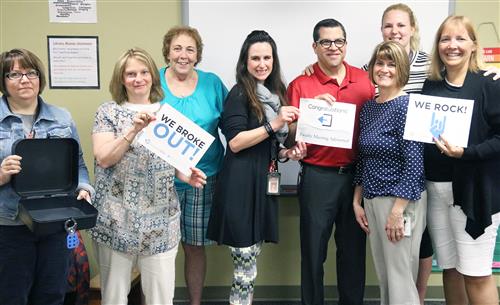 Palermo Elementary School staff members celebrate their success of working
together, utilizing academic clues, to solve their BreakoutEDU challenge. The fun
event was led by Librarian Tiffany Carpenter, back right, who has encouraged
teachers to use multi-step process in their classroom lessons.