Guest teaches perseverance through painting
Palermo Elementary School students learned a valuable lesson from guest presenter Dennis Pullen: we all can be different and the same.
Noticeable differences with Pullen and the students in grades kindergarten through four included his wheelchair, breathing device and lack of mobility, but similarities far outweighed those three. Pullen and the children alike enjoyed ice cream, movies, going on vacation, being outside and painting, among many other activities.
Because of his lack of mobility, Pullen completes daily tasks with his mouth. He began painting when he was 19, 11 years after he was hit by a car in a white-out and his life forever changed. Pullen learned some daily tasks all over again while immobile and struggled with the curveball life provided him, but with much perseverance and persistence he has transformed into an independent, art-loving person.
"I don't let anything stop me," he said.
Students were encouraged to not let anything stop them either. Under the direction of Pullen, they had one student dip a Q-tip into a paint color and they put the clean end in their partner's mouth so the partner could attempt to paint like Pullen. They struggled through the difficult task, but Pullen said he struggled until he perfected his craft. While his paintings may take months to complete, several have been New York State Fair award winners.
The presentation, held in the school art room, was also brought to New Haven Elementary School as a Center for Instruction, Technology & Innovation Arts-in-Education program.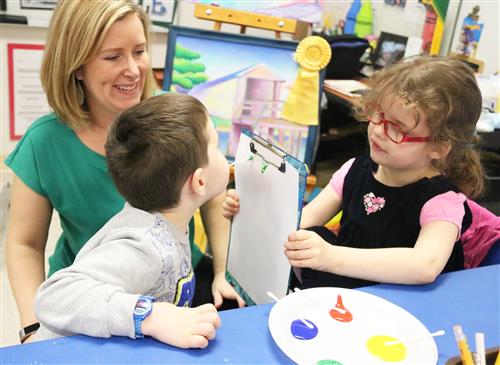 Palermo Elementary School kindergartners Caleb Brewer and Abigail Loomis
practice painting with their mouths, as guest speaker Dennis Pullen has to do,
while art teacher Megan Christopher stands ready to assist the pair.