Palermo students learn about dental hygiene
Palermo Elementary School students recently learned there are just five simple steps to taking great care of their mouths.
Following a visit from dental hygienists Wendy Probst and Cammie Lyndaker, students in grades pre-kindergarten through four were able to share the following steps to a great smile: brush twice a day for two minutes, use fluoride toothpaste and mouthwash, floss, don't snack too often and visit the dentist every six months. The McCue Dental employees said those helpful hints will minimize the occurrence of cavities.
Lyndaker and Probst read a story to prekindergarten and kindergarten students before they discussed those key points, while the older students watched a video about plaque monsters and their quest to rot teeth. Ultimately, the monsters were unsuccessful because the main steps were closely followed.
As a reward for their attentiveness, students were given fun stickers and temporary tattoos, while their teachers collected dental hygiene goodie bags filled with a miniature tube of toothpaste, a full-size tooth brush and floss picks.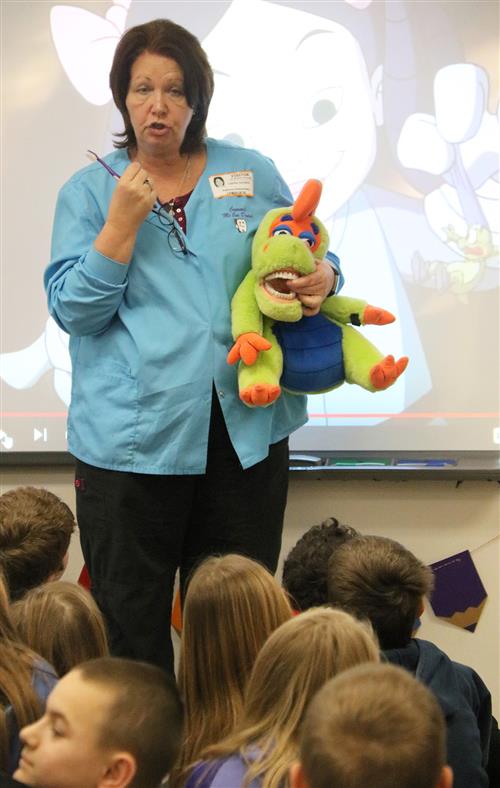 Cammie Lyndaker, dental hygienist with McCue Dental, discusses with a Palermo
Elementary School fourth-grade class about the importance of brushing at least
twice each day to avoid plaque build-up on teeth.